Hans J. Wegner entwickelte den Shell Chair 1963 zur großen Möbelausstellung in Copenhagen.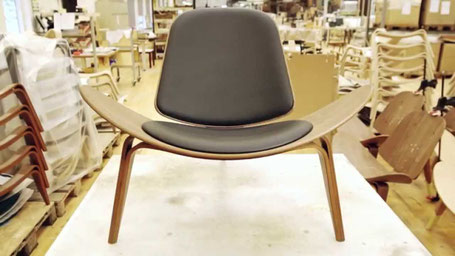 Wir lesen direkt auf der Seite von Carl Hansen & Søn: 
"While some critics loved the avantgarde design, the general public was reluctant to accept the chair's bold and different design. When Carl Hansen & Søn re-introduced the chair in 1998, it immediately won several design awards - as well as broad public appeal. Another good example of Wegner being way ahead of his time" ... "The design's floating lightness is achieved through its wing-like seat and curved backrest held by a frame with three arched legs. The chair's signature seat and backrest are created from upholstered form-pressed veneer, cradling the user in generous comfort. The chair's laminated legs are made of several layers of veneer, and the two front legs are made from a single element, resulting in a unique and stable form. The Shell Chair is a clear manifestation of Wegner's belief that a chair should always be comfortable, have no back side and should be beautiful from all sides and angles"